The most important: the pouch of supertence that never comes off
2021 will be the year of athleisure again, and we already have the best tests. If a few weeks ago we crowned Kendall Jenner as the queen of this style that mixes sportswear with other urban clothes, now it is her colleague Kaia Gerber who once again shows us that dressing in leggings, in the middle of the street, can be a great success. Not only is Cindy Crawford's daughter one of the highest paid models in the world, but her off-the-runway style is also one of the most inspiring, and in recent weeks she has revealed, through her combinations, both tricks. easier to wear in tights all day, also outside the gym.
Kaia Gerber's obsession with leggings
That sportswear is already part of the wardrobe is something we have been saying for months. Comfort as a fashion super trend, the most home-made and informal lifestyle and sports as a universal hobby have made sweatshirts, leggings or sneakers the perfect pieces for any plan. Especially if they combine as well as Kaia Gerber, who has not removed her tights in recent weeks and has almost always worn them the same way: with an urban and trendy upper part, and the same brown baguette-style bag.
With sandals and socks or the perfect shearling boots to substitute for sneakers, Kaia has hailed leggings as her favorite pants in recent weeks. However, she has achieved with them some of the most flattering looks and that we could perfectly take to plans outside the gym. For this, she always wears them with trendy tops, such as a purple jacket, a cropped sweatshirt or the polo-style sweater in the image above, a design that is also made in Spain as it belongs to the Mango brand. As all these pieces have oversized silhouettes, the model balances the tight fabric of the leggings and transforms them into one more urban pants.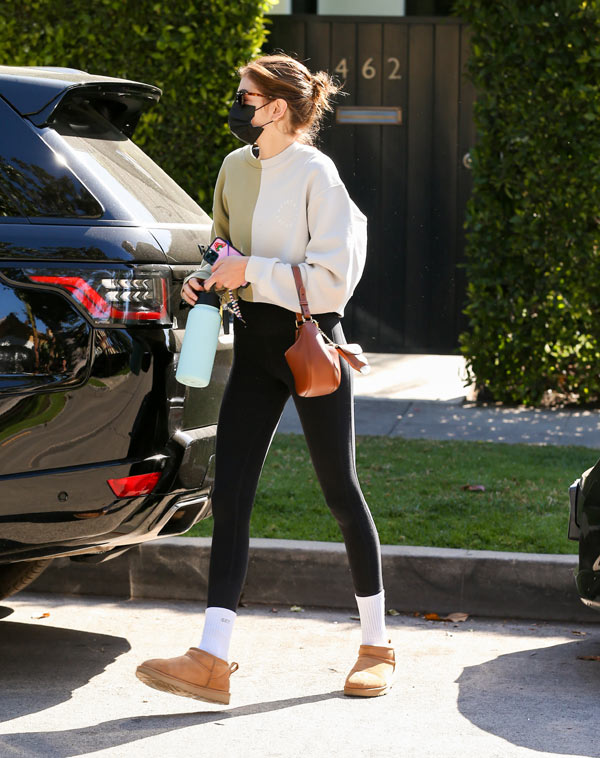 But, without a doubt, the key to these outfits is the bag that Kaia carries over and over again, a Céline model called Ava (1,300 euros). Her skin tone, dark camel, is perfect for this type of look because it combines with the classic colors of sportswear -grey, black-, and her 90s silhouette makes it as comfortable as the same leggings, apart from adding a touch of very chic super trend thanks to which the model can afford to wear sportswear wherever she wants.